10 B2B Content Marketing Trends to Watch in 2018
Business-to-business companies in industries of all kinds are increasingly seeing the impact of successful content marketing campaigns, with those campaigns even becoming the norm for gaining viable leads and converting them to customers.
A recent study by The Content Marketing Institute found that nearly 90% of B2B marketers are now using content marketing as a core component of their online marketing strategy. And 52% of companies not currently using content marketing say they will launch a new campaign within the next 12 months—meaning, by the end of 2017, over 95% of B2B marketers will be utilizing content marketing.
How can your company compete in this highly competitive new approach to gaining customers and keep from being left in the dust? Read our 10 trends for 2018 to get ahead of your competitors and begin implementing strategies others will be catching up to next year.
1. Create a Content Calendar
According to The Content Marketing Institute, B2B marketers who have seen an increase in success in their B2B content marketing efforts from 2016 to 2017 credited an increase in content creation (85%), strategy (72%), priority (53%), and spending more time (53%) as the top four reasons. High-performers identify two factors that are leading to success in their content marketing campaigns—the amount of content being produced and the consistency of publishing that content.
However, only 37% of those respondents have a documented content marketing strategy. This gap can be closed with the help of a content marketing calendar that sets the requirements for your campaign and provides a clear success measurement for your team that can be revisited and updated at any point throughout the year.
Timing is key when it comes to the amount of content created, as 70% of respondents say they plan to create more content in 2018. Those who follow through with this claim will determine the overall improvement in content marketing success over the next 12 months.
2. Track Success Against Goals
According to the Content Marketing Institute, only 41% of B2B marketers report having a sense of clarity in the effectiveness of their content marketing strategy. Creating a content calendar is one element of closing the gap for transparency and understanding success in your digital marketing efforts.
Another element for tracking success is applying a clear strategy backed by measurable quarterly goals. Eighty percent of B2B marketers report lead generation as goals their organization will focus on over the next 12 months. However, when that same group was asked which metrics their organizations use to determine how well their content marketing is producing lead-generation results, 78% reported website traffic as a key metric. While traffic can be important, it's not a point-blank indicator of increased leads; meaning, there is a clear disconnect in marketers' focus and the metrics they use to track success.
For these marketers, sales lead quality would be a much better metric to track against the focus applied to content marketing. By making this subtle shift and applying clear expectations to the metrics evaluated, your team will be able to demonstrate the value of content marketing to leadership and adjust your campaigns accordingly.
3. Craft Automated Referral Marketing Rewards
While referral marketing is nothing new, the ways in which this time-tested practice can be implemented for your team are beginning the make a big difference for marketers. According to Ambassador, 82% of people seek recommendations and 74% say word-of-mouth was a driving factor in their purchasing decision. It only makes sense to build on your existing or past referral marketing campaigns.
Reward automation allows you to open the door to referrals from all of your advocates, from existing clients to partners to industry leaders. Through easy-to-use setup, you can automate this process to bring in more leads through your existing network, then expand your network through your new leads. It's a never ending cycle of some of the best sales leads you're ever going to find.
4. Focus on Compound Content
We've advocated for the power of evergreen content for years and that won't change in 2018. Creating content detached from time-based topics allows for an extended period of relevancy that will attract traffic long after your publish. Matching compound content with sustainable SEO techniques will only increase the returns of your content marketing pieces.
What will change? A lot more companies are going to be aiming to create this type of content and begin to carve out a share of the engaged customers coming in through these long-term pieces.
At the start of 2017, Brandpoint decided to invest more heavily in their blog in the following three areas:
Write 100% more blog posts

Add forms to all blog posts and articles

Interlink to twice as much of their own content
The results were staggering. They've seen a 100% increase in sales in Q2 over Q1 and, between April and May of 2017, they increased opportunities created by 100%. That's a huge leap toward turning their blog into a salesperson with just a few changes.
Now, imagine if a fourth point was to create more compound content. The results Brandpoint is currently experiencing would remain, but they would also be able to look back in two years and see the sales impact from 2017 drive their Q2 2019 sales pipeline.
5. Account-Based Marketing
At Mostly Serious, we place a premium on taking care of our existing clients. While the thrill of chasing new accounts can be enticing, taking care of existing clients is both more rewarding and a more cost-effective way to increase revenue. By ensuring our clients are taking advantage of the latest trends and opportunities, we have established a built-in retention marketing strategy that ties directly into benefiting our clients. It's a win-win.
The first step in successfully executing an account-based marketing strategy is to fully understand your ideal customer. While retention is key, it doesn't do us much good to double down on a customer who doesn't maximize your profit. Instead, we need to identify key accounts to target and refine the data for these contacts using tools like Salesforce Einstein.
After you've refined your target accounts you are in position to engage these accounts. When engaging accounts, it is key to ensure the information you are providing not only maintains awareness but also improves the relationship you have with your customer. For instance, by utilizing marketing automation, you can identify when a customer hasn't contacted you for two months and send an email with your latest educational article.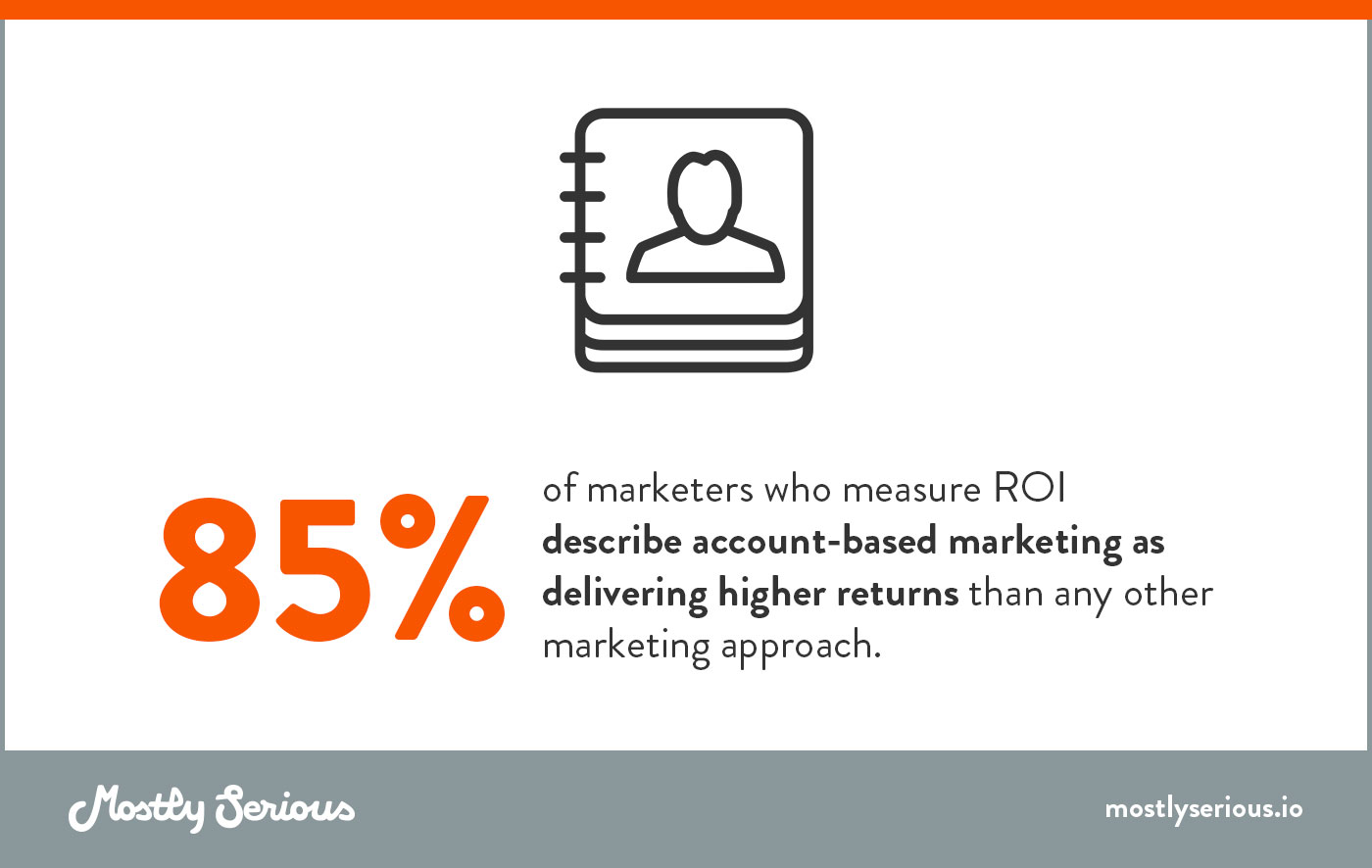 6. Native Advertising
While native advertising isn't new, the effects have proven so powerful that the format is quickly gaining traction as the primary ad spend for B2B marketers. According to Business Insider, native ads will drive 74% of all ad revenue by 2021. While much of the current ad spend is in social media, native-style display is expected to grow by more than 200% over the next two years.
With those numbers, it may be surprising to hear that only 41% of B2B marketers are taking advantage of native advertising, while 84% rely on social promotions (according to a report by the Content Marketing Institute). Part of the reason for the disparity in native vs social promotions is the ease of use to activate social media ads through Facebook and Instagram. Native ads are more time consuming and difficult to set up, but the results are worth the effort.
As native advertising begins to take over other advertising tactics, prices will continue to drop. In 2018, the market will continue to become more saturated with native ads and prices will become more competitive, providing an ideal point of entry to begin taking advantage of the proven benefits of native advertising.
7. Understanding Your Individual Customers
While Amazon and Google are famous for their personalized customer experience, B2B marketers are lagging behind their B2C counterparts. That isn't to say the options aren't available to customize and improve the experience for your individual customers.
Individualizing your customer's experience is easier than ever and is quickly taking hold through tools like ActiveCampaign and other personalized marketing automation solutions. When properly mixed with contact enrichment services, you can get down to the nitty gritty of your contacts, prospects, and customers to offer them an experience wholly unique to their needs.
But beyond better understanding individual contacts you've already touched, how can you better understand what your individual customers expect and need from your business? You can start by asking them. Surveys, focus groups, and casual conversations over coffee can provide much insight into what customers need (or want) from you. In addition, a thorough audit of your existing digital presence can tell you what people are (and aren't) interacting with, which content or site elements are working, and how customers find critical information. This information is crucial to developing a curated, personalized experience for your audience.
8. Embrace the AI Revolution
While artificial intelligence takes hold across a variety of industries, leaders and B2B marketing professionals are taking advantage of the revolution to improve efficiency and advanced personalization.
While entry to AI does include budgetary and experience barriers, Salesforce's Annual State of Marketing reports that high-performers are more than twice as likely to use AI in their marketing campaigns than under-performers. Fiftyseven percent of marketers using AI already say it's absolutely or very essential in helping increase touch points with customers and prospects. So while the hurdle is difficult to leap, the outcomes are proving very successful.
While Google, Facebook, and Neiman Marcus use AI marketing to present better ads, detect writing on posts, and prevent data breaches, there are also more practical applications surfacing. The Grid offers AI driven website design, AgilOne is improve customer-engagement, and Saagie is using AI in sales forecasting.
Salesforce also points out that marketers anticipate AI use will grow by 53% over the next two years while half of respondents are already using AI in their marketing efforts. It's time to jump on the AI train before it leaves the station, folks.
9. Enact Structural Change to Positively Impact Content Marketing
Fifty percent of organizations report that structural changes (or a lack of necessary structural changes) have negatively influenced their ability to focus on content marketing efforts. Specifically, companies identify two issues as major obstructions to successful campaigns. First, many organizations report that they lack the time required to create content. Second, marketing stakeholders have a difficult time justifying the cost of content marketing efforts given their delayed ROI.
Fortunately, a subtle shift in organizational mindset can overcome both of these barriers. Reminding internal stakeholders that content marketing is one part of an overall customer engagement strategy, which necessarily takes time, can blunt the initial force of the upfront time it takes to create content. And, providing members of the organization opportunities, time, and resources to create can generate an authentic account of your value.
Finally, if you just can't sacrifice the internal bandwidth, you can find an external partner that will develop and track the success of your content on your behalf. When you're ready, we'd love to talk.
10. Leverage B2C Personalized Marketing in B2B Content
There was a time not long ago when B2B marketers were hesitant to adapt for B2C styles of marketing, including establishing emotional connections, mapping the customer journey, and building real-time customer tracking. While B2B marketers still lag a bit behind, the tides have turned and they are increasingly adopting proven practices from their B2C counterparts.
Automation tools have made it easier to provide personalized content to individual prospects and existing customers while analytics add depth to your campaign evaluations and adjustments. Website lead finder tools, that add company and contact context to your website analytics, provide an easier way to catch otherwise missed prospects.
The most important takeaway from B2C strategies is to understand there is likely an even more emotional tie to buying for a business. Often times your consumer's job depends on making the right purchasing decision. They want someone they can trust. They want to know you're there for them now and into the future, that you understand their needs, and that your product fills the need. There is a lot more crossover there than B2B marketers have admitted in the past.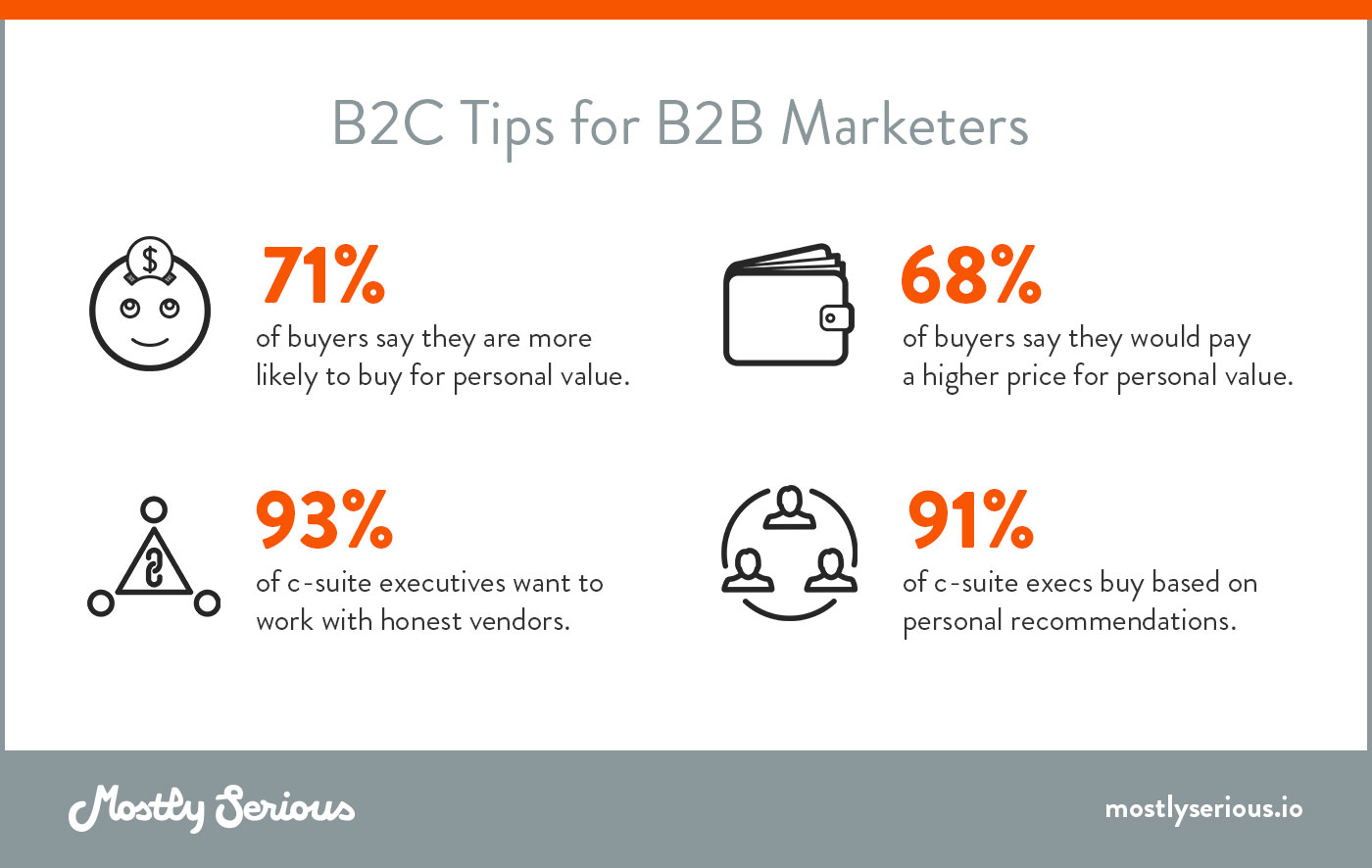 While these trends are important in separating your content marketing strategy from the competition in 2018, it is equally important to ensure your strategy is inline with top performers. Following trends is a powerful advantage when combined with an already well oiled content marketing approach.
Get Started
We know the leap into the digital landscape can be intimidating. We're here to help. When you're ready to build from the ground up, send us a message and we'll help you understand the best path forward.
Want more? Sign up.
We'll keep you up to date on our latest articles and insights. Sign up for our newsletter: